"As Sara, Duchess of Nottingham, mezzo-soprano Allyson McHardy sang her aria "All'afflitto, dolce il pianto" so beautifully that the applause nearly brought the opera to a halt as soon as it began. McHardy never lost the golden creaminess of her tone: even the most rapid passages and the depth of her characterization lent variety to a figure who is in a perpetual state of anxiety throughout the action."
- Opera News
Biography
Download PDF: short bio | long bio
A unique vocal colour and commanding stage presence are the hallmarks of performances by mezzo-soprano Allyson McHardy. Hailed by Joshua Kosman of the San Francisco Chronicle as "a singer of enormous imagination and versatility", she has appeared with the Paris Opera, Festival d'Aix-en-Provence, Chicago Symphony, Toronto Symphony, Glyndebourne Festival, San Francisco Opera, Boston Symphony, Canadian Opera Company, Warsaw Philharmonic and Théâtre du Capitole, Toulouse. Adam Fischer, Seiji Ozawa, Jeremy Rohrer, Kent Nagano, Emmanuelle Haim, Bernard Labadie, Ludovic Morlot, Carlos Kalmar and Jesus Lopez Cobos are among the conductors with whom she has collaborated for performances of works such as L'enfant et les sortileges, La clemenza di Tito, Das Rheingold, Dream of Gerontius and Messiah.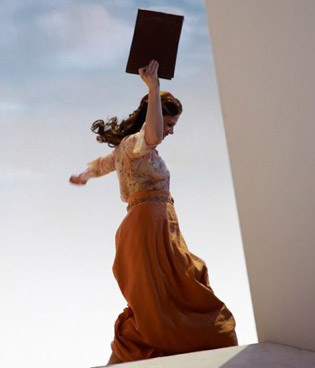 "Allyson was totally captivating as the the lead figure."
- Calgary Herald
Performances
Ms. McHardy bookends her coming season with performances at Maison Symphonique for Orchestra symphonique de Montréal in Mahler's Symphony No. 8 and later, Beethoven's Symphony No. 9, both with Nagano on the podium. She will be heard with the Toronto Symphony in Ryan's Requiem, in Kansas City for Messiah with Matthew Halls conducting and will be featured this season by the Canadian Opera Company as Smeton in Anna Bolena.
A native of the province of Ontario, Ms. McHardy's career is a carefully curated balance of opera and concert repertoire that moves from Donizetti to Handel, from Heggie to Mahler. During the 2016 – 2017 season she made her Beijing Festival debut in Robert Carsen's production of A Midsummer Night's Dream, first created for Festival d'Aix-en-Provence, and completed the season with Beethoven's Symphony No. 9 for the Grant Park Festival in Chicago. The Mozart Requiem took her to Ottawa's National Arts Centre, while in Seattle she was featured in Ligeti's Requiem. Of particular note were her performances as Julie Riel in Harry Somers' Louis Riel, a Canadian Opera Company production that was also seen in Ottawa and Québec City as part of the nation's Sesquicentennial Celebrations.
Recent opera highlights include appearances in Donizetti's Lucrezia Borgia in St. Gallen, Switzerland, Roberto Devereux for the Canadian Opera Company, Amadis de Gaule at the Opéra Comique, Handel's Alcina with Opera Atelier, Madama Butterfly with both Opéra de Montréal and Vancouver Opera, as Sister Helen Montréal's Dead Man Walking and Handel's Hercules with Toronto's Tafelmusik.
She has appeared with major orchestras across the globe for performances of Ligeti's Requiem with the Royal Concertgebouw Orchestra, Mahler's Das Lied von der Erde with the Vancouver Symphony, Messiah in St. Louis, Madrid and Chicago and a staged production of the Mozart's Requiem Mass for the Toronto Symphony.
"The singing was magnificent tonight. Sister Prejean (McHardy) had an immense amount of singing throughout the night, and her expressive and demonstrative voice never showed signs of wear. She acted marvellously as well – not an easy task when portraying an Elvis-loving nun with a sharp, dry wit."
- Bachtrack